Jumping in with both feet, I designed 3D models in VR for the Carbon Cycle project, presented at the digital Science Day 2020 (Dag van de Wetenschap 2020).
Carbon Cycle
"During Science Day 2020 (Dag van de Wetenschap 2020) Cohack Reality gave a taste of their virtual Carbon Cycle. You could see the path carbon travels on earth through the air, plants, the soil and our oceans. This experience was completely designed and drawn in Virtual Reality and can be experienced with your own VR head set or you could simply watch it online. This is the final part of the Cohack Reality 2: XR process as a design tool. During this PWO research, the possibilities of designing within Virtual, Augmented and Merged Reality was investigated. Researchers Wim Forceville and Stijn Calis have taken permaculture as a binding agent and have explored the many possibilities of these innovative technologies in the past year. Illustrator Gert Wastyn converted these ideas and designed all 3D models in VR." (Stijn Calis, 2020)
Calis S. (2020 November 21) Dag van de Wetenschap 2020. Retrieved from http://cohackreality.be
Introduction
Wim Forceville (co-promoter PhD 'Exploring the artistic-technical possibilities of VR as an animation-production tool') asked for a co-operation to create low poly 3D models in VR for his Carbon Cycle project as part of Cohack Reality 2, as this could benefit both his project and my research.
This project was a stepping stone for me as an artist to get acquainted with using VR as a design tool.
Creative Proces
Dozens of 3D models were designed in VR using the 3D design and modeling software Gravity Sketch as an early adopter. Because these models were to be used in VR on the SketchFab platform there were some restrictions on the file size, so a low poly design of the models was most suitable. Composition and renders by Stijn Calis (researcher 'Cohack Reality') in 3D computer graphics and computer animation software Blender.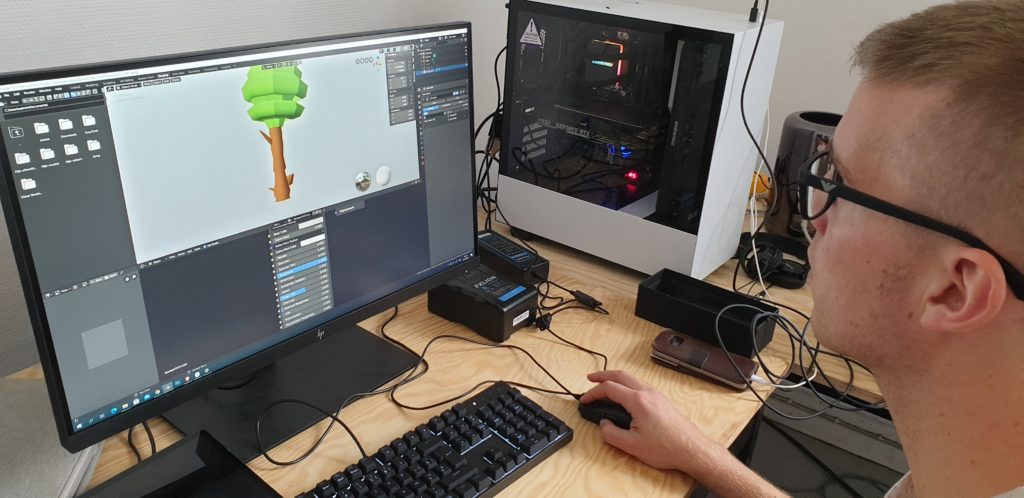 During digital Science Day 2020 I created additional models on subjects suggested by the live online audience. (Read more on this topic: Science Day 2020)
Results
Below some 3D renders of the result.
Findings
Using VR for the first time as a design tool for the Carbon cycle project was a perfect introduction for my research. I found working with the Gravity Sketch software quite intuitive. Once I got more acquainted with the tools, the models became more efficient, especially by using the SubD technique. After a couple of prototypes I was able to produce some high quality low poly 3D models.
It did became apparent that the software is still in development due to the beta tools. Much needed features are to be added such as a precision tool for more precise handeling. The final tools will be released January 2021.